FIND A DEALER
Apollo features coil suspensions, mid-wheel drive technology, and heavy-duty construction. ​Apollo FreeRider features 12.5" drive wheels for enhanced outdoor performance combined with a mid-wheel-drive design to provide tight turns for optimal indoor maneuverability in small spaces.
Large front wheels add extra absorption for superb climbing capabilities combined with front anti-tip wheels for handling various terrains with ease. Within a 21" turning radius this is a budget-friendly power chair for constrained spaces such as supermarket, living rooms, even bedrooms.
With a 3.62" ground clearance, independent suspension, and well-padded armrests, it offers you a superior comfortable riding experience for indoors and outdoors. It has up to a 20-mile range per charge which can allow you to ride it conveniently after being upgraded to an efficient powertrain system. It's the best, well-equipped power chair  featured in its class.
Share
詳細を表示する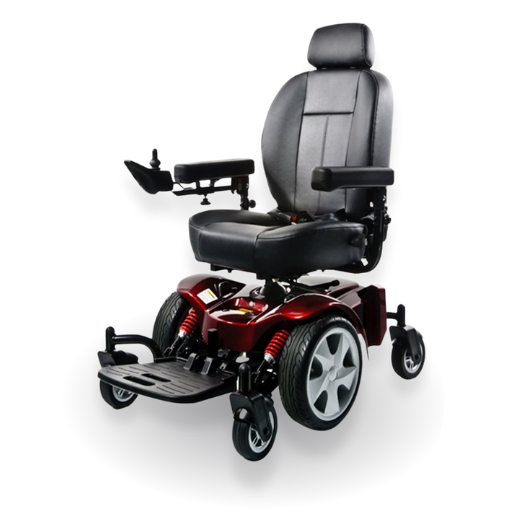 Specifications
Overall Length: 47in
Overall Width: 26.in
Max. Safe Slope: 6 degrees
Max. Speed: 4 mph

Turning Radius: 2in

Range Per Charge: Upt to 25 miles

Weight w/o Batteries: 154lbs

Battery (each): 33lbs

Weight Capacity: 470lbs

Battery (each): 33lbs

Ground Clearance: 3.62in

Colors: Red
Note: Range varies with weight, terrain, temperature, batterycondition etc. and is subject to manufacturing tolerances. Your battery will require a period of "breaking in" before they will reach their optimum capacity (up to 20 charge, discharge cycles can be expected) before full range is experienced.